Kalib in hospital after removal of his tumor. November 1999.

Kalib playing with his school bus in hospital. He wouldn't let it out of his sight.


Kalib asleep in hospital while Dad on the phone.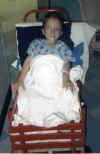 Kalib's mode of transportation while in the hospital.


Kalib receiving treatment through his port-a-cath.


Kalib (lacking some hair) and sis Michaela in the tree fort (April 2000).


Kalib and Michaela May 2000