Table of Contents
Web Updates
Glossary
Kalib's Stuff
Story Page
Photos
Preemie Stuff
NICU Photos page 1
NICU Photos page 2
Links
Kalib's Discharge Summary
Books

Spinal Cord/Spina Bifida
Links
RGO Photos
How to put RGO's on
Wheelchair pics
Gloves
Continence
Books
Wilm's Tumor
Photos
Links
Books

General Info
Books for Kids with Differing Abilities
Toys for Kids with Differing Abilities
Camps for kids with Special Needs
Siblings of kids with Special Needs
Mom's Stuff
Welcome to Holland - describes raising a child with a disability.
Inspirations and favorite poems
Books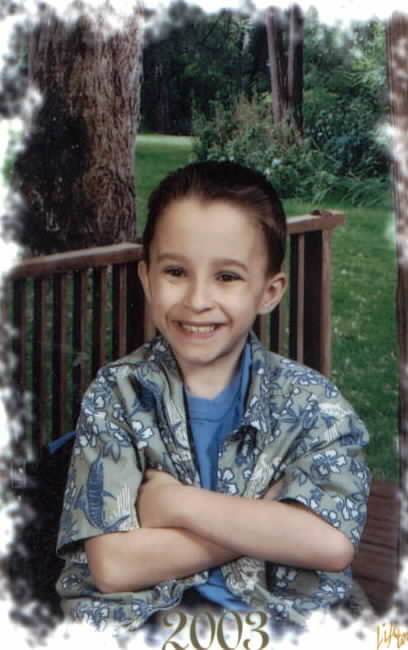 Hi! I'm Kalib. I was born extremely premature and have suffered numerous health problems.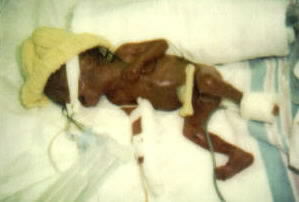 I weighed 1 lb. 4 oz and was 12 inches long. I spent my first 6 months in the NICU (neonatal intensive care unit) of Methodist Hospital in Dallas, TX fighting for my life. I have a spinal cord injury at level T11 which makes my legs paralyzed. I have recently survived a bout with cancer. It was a Wilm's tumor and was taken out surgically. I also had 20 weeks of chemotherapy. I hated it. I have lots of health issues but I am also a normal boy in a lot of ways.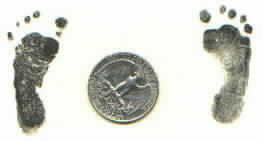 Kalib's feet print ACTUAL SIZE from birth certificate. The quarter is for size reference.
Click here to read more of my story.
I LOVE Nintendo, Sega Genesis, and computer games. I also like to watch TV. Some favorites of mine are Digimon, Power Rangers, Dexter's Laboratory, & Magic School Bus. I love anything to do with dinosaurs, hot wheels and Star Wars. I love school, I just don't like school work. I like Back Street Boys and 'N Sync. I really want to go to Disney World some day.

I have a big brother (Matthew) and a little sister (Michaela) and we live with my mom (Shannon) and my dad (Aaron) in Lindale, TX.
This site is dedicated to those who feel like life has thrown them some bad kinks and wonder how they will make it through. My answer to that would be "One day at a time" and if that seems too daunting "One minute at a time". I would like for this site to give hope and encouragement to those who read it.

I Love You
24x18 Fine-Art Poster
by Cheryl Piperberg
Buy this Fine-Art Poster at art.com
To view more art prints click here

A Visit to the Sesame Street Hospital

Block Play People with Differing Abilities